Take advantage of the season's bounty with this recipe from Ellen Evert!
Dandelion Root Coffee
You can cut your Coffee with roasted and ground Dandelion roots or try adding a bit of roasted Chicory root (Cichorium intybus) to your regular blend.
To prepare the roots as a beverage:
Dig them up and scrub off any dirt.
Soak the roots in 1 quart of water with a tbsp. of Salt or Vinegar added, to make parasites drop off (leave the roots in the water for at least 20 minutes).
Rinse the roots well.
Cut the roots into tiny pieces (as small as possible, to resemble Coffee bean size, make them small enough so they can be ground later) and dry them in a slow oven at 200 degrees for 1 1/2 hours, spread on a cookie sheet, to make sure they are fully roasted, dry and brown.
Store the roasted roots in a container with a tight lid. You can now use the roots as you would any Coffee beans, grind them up, use them in a French press, etc.
You can add the roots to regular Coffee beans as an extender, or make herbal "Coffee" with just the Dandelion roots. Here is an elegant brew idea:
Dandelion Chicory Herbal Coffee
Ingredients
1 tsp. roasted Dandelion root
1 tsp. roasted Chicory root
1 tbsp. organic Coconut Concentrate (also called Coconut butter or Coconut Manna)
1 tbsp. organic Coconut oil
Method
Place in the bottom of a French press and cover with 16 ounces of freshly boiled water.
Steep 4 minutes before plunging.
Blend (with a cloth or cover to protect your hands) for 30 seconds until frothy and serve.
Makes 2 cups.
Serve hot or iced.  *
*Adapted from: Trescott, Mickey, Autoimmune Wellness, AIP "BULLETPROOF" STYLE DANDELION/CHICORY COFFEE, 1/18/2017 https://autoimmunewellness.com/aip-bulletproof-style-dandelionchicory-coffee/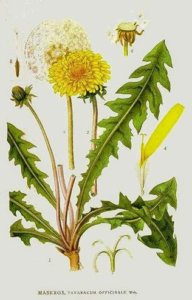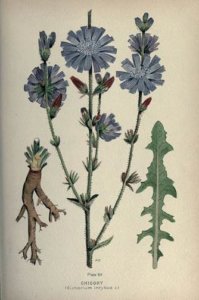 Ellen Evert Hopman, Herbalist and Author ᚓᚂᚂᚓᚅ ᚓᚃᚓᚏᚈ ᚆᚑ ᚋᚐᚅ (her name in Ogham) * visit her bookstore and blog *    www.elleneverthopman.com Learn Herbalism with Ellen at The Western Massachusetts School of Herbal Studies (October to April each year) POB 219, Amherst, MA 01004.   Study Druidism at The Tribe of the Oak www.tribeoftheoak.com