[español abajo]
On April 12th we will be hosting the last Community Listening Session of our three event series. It will include a free, fun and practical workshop: "Bag Making" and is co-sponsored by the Hampshire Food Policy Council, who will be providing Spanish translation services for the event.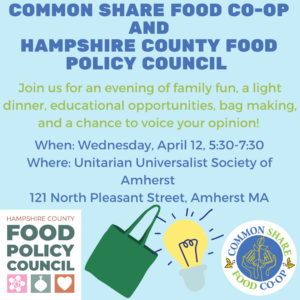 Join us for an evening of family fun, a light dinner, educational opportunities, bag making, and a chance to voice your opinion!
When: April 12 5:30-7:30pm
Where: Unitarian Universalist Society of Amherst, 121 North Pleasant Street, Amherst MA
—
LA COOPERATIVA DE ALIMENTOS DE ACCIÓN COMPARTIDA Y EL CONSEJO DE POLÍTICA ALIMENTARIA DEL CONDADO DE HAMPSHIRE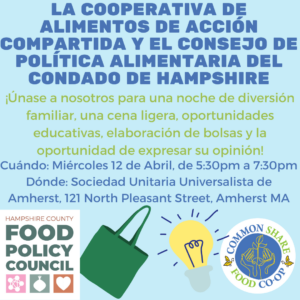 ¡Únase a nosotros para una noche de diversión familiar, una cena ligera, oportunidades educativas, elaboración de bolsas y la oportunidad de expresar su opinión!
Cuándo: Miércoles 12 de Abril, de 5:30pm a 7:30pm
Dónde: Sociedad Unitaria Universalista de Amherst, 121 North Pleasant Street, Amherst MA