2019 Year-End Newsletter
From changing our name, welcoming new staff and board members,  developing new partnerships, visioning for our community space, and bringing in over 160 new member-owners, it's been a busy year of changes and growth for Common Share Food Co-op! We want to share some highlights of our progress and celebrate the milestones with you.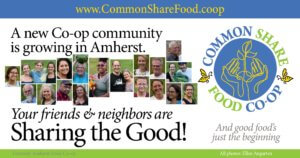 2019 In Review
We began 2019 with a fresh start under our new name and welcomed our new Community Engagement Coordinator. We celebrated our 500th member-owner milestone, and hosted house parties, listening circles, and community events throughout the Amherst area. We also participated in monthly discussions about food access with the Amherst Food Justice group and learned new development resources and strategies from food co-op workshops and conferences. We brought in new board members and volunteers and created new partnerships with local businesses to support member-owner growth. In just a few months, we went from being halfway towards our 1,000 member-owner goal to being two-thirds of the way there with 663 households! Despite all these changes, we are still strongly committed to our mission of building a worker and consumer-owned grocery store that draws together the diverse communities of the Amherst area in an inclusive space supporting food justice and local resilience. None of this progress would be possible without the steadfast support of our member-owners. Thank you!