Common Share Food Co-op Listening Project
Background
Common Share Food Coop is part of a broad movement of cooperation between everyday people from all walks of life, class backgrounds, racial and ethnic histories. Food co-ops are a powerful tool for leveraging social, economic, and environmental justice because food is so essential for a community to survive and flourish.
In the summer of 2018, we started to look closely at who we are on the Board, and who we are as member-owners of this enterprise. Many of us were food justice advocates before we joined the co-op; and when we started to examine ourselves — our vision of a grocery store that helps to advocate for economic justice and food justice, and that welcomes all the communities of Amherst and includes all communities in its creation — we saw that there are a lot more people in Amherst who are not yet member-owners. And there are a lot of groups of people, communities, that are not yet represented, and not at the table making decisions about how the vision of this store and community space will unfold.
We realized that we could not just keep running down the track of business-as-usual, making our pitch in the way we've been doing for 5-6 years. We realized that we need to go out to those communities that are not at the table, and listen.
Why are we listening? We need to hear about people's experience with food; what they know about food; and what they and their families need to make sure they have delicious, healthy food. Our connections to food and community define part of who we are and our collective stories will contribute to building an inclusive co-op for all.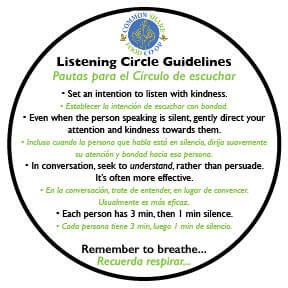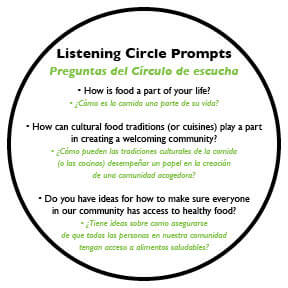 Interested in organizing a listening circle in your community or getting involved as a facilitator?
Email community@commonsharefood.coop for more information.